This set of tests is aimed at understanding whether alcohol-cleaning or sanding grit have an impact on chatoyance after finishing.
A set of 12 consecutive veneer sheets (from "A" to "L") were employed, each split into three samples (from "1" to "3"); therefore, all samples ending with "1" are just consecutive layers of the initial log and start from very similar PZC values; the same applies for samples "2" and "3".
These three parameters were considered in all possible combinations:
1) Sanding grit (as received / 240-grit / 1500-grit)
2) Cleaning (or not) with alcohol
3) Finishing (dense shellac or boiled linseed oil (BLO))
In addition, some tests were run with spray Nitrocellulose Lacquer (NCL).
It was concluded that:
1) Alcohol cleaning is detrimental to chatoyance on Curly Maple (-0.6 PZC on average)
2) As-Received veneer surface is generally more chatoyant than sanded surface, even after finishing (+4.0 PZC on average with respect to 240-grit sanding, +2.5 PZC wrt 1500-grit sanding).
3) If sanding is required, reaching a higher grit provides better chatoyance on the finished product with a lower amount of coats (+1.5 PZC on average)
Tables below summarize all results: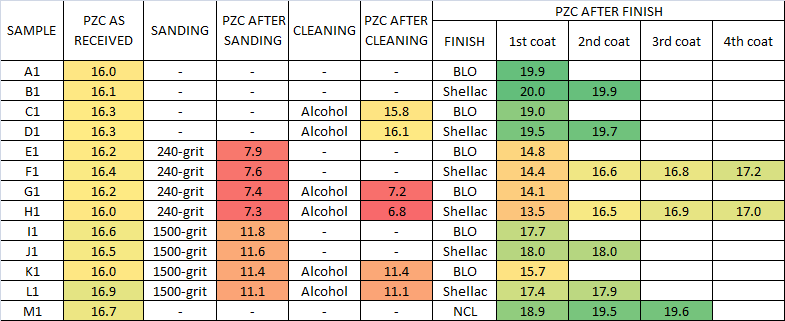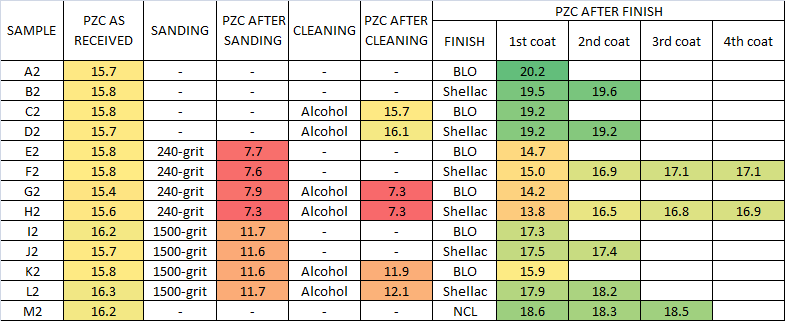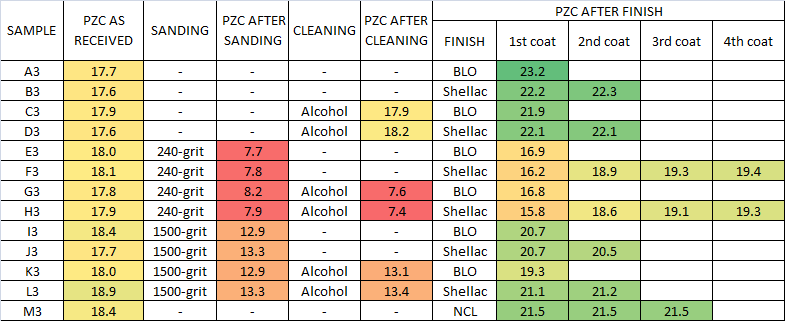 Below some examples: